P.I.T. Pipe Stocks and Supply's Steel Bollard Pipe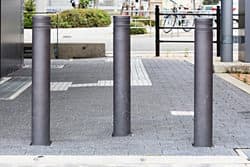 At P.I.T. Pipe, we can custom fabricate any type and size of steel bollard pipe for your specific application. We stock many different diameters of bollard pipe including a wide variety of smaller diameter light wall pipes ideal for this application. We also work directly with mills so that no matter what you need, we can have it fabricated for you. We can provide pipe that has been painted and cut to your exact specifications.
If you need bollard pipe for any application, P.I.T. Pipe can get you what you need no matter what the project calls for. We stock and supply a wide variety of new and used steel pipe. We can also fabricate custom pipe for any job or application that requires special dimensions and grades. Contact us at P.I.T. Pipe today for your bollard and metal pipe needs or to learn more about the types of pipe that we can supply.
Common Uses and Applications for Bollard Pipe
Bollard pipe is a guard pipe that is cut in lengths and inserted into the ground vertically to create physical guard barriers. There are many types of applications where bollard pipe can be used. For example, it can be used to protect buildings and can be used in parking lots to keep vehicles from parking in certain areas. Another application is to prevent automobiles from entering areas where vehicles are not allowed, while still allowing pedestrian entry.
Protective bollard pipe can be used to protect any building or structure from a vehicle running into and damaging these structures. For example, this protective barrier can be used for things like utility boxes and machinery. Bollard pipe is now widely used to contribute to safety and security when designing buildings, and building design guides now usually include safety bollards as part of integral security design.
Applications That Use Bollard Pipe
Bollard pipe can be used in a wide range of applications to protect property or assets, mark traffic gates, mark pathways, and much more. Some of the most common applications for bollard pipe include for protecting or designating:
Playgrounds
Trails/Trailheads
Roadways
Leisure Parks
Fire Access Lanes
Building Setbacks
Sports Field
Malls
Traffic Gates
Landscapes
Pathways
Site Utilities
Bus Stops
Toll Booth
Bicycle Lane
Traffic Medians
Site Perimeters
Intersections
Store Fronts
Buildings
Vehicle Parking
Site Access Control
Site Surveillance
Vehicle Pick-Up
Contact P.I.T. Pipe for More Information on Bollard Pipes and Applications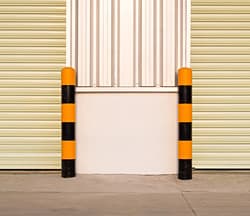 As a leading steel pipe distributor, we at P.I.T. Pipe stock and distribute bollard pipe in many sizes and lengths. Our bollard pipe can be painted safety yellow or other custom colors depending on your needs. We keep a large stock of smaller and diameter light wall pipes that are ideal for many applications. With this complete selection, we can supply everything to meet your construction and piping needs.
P.I.T. Pipe also buys new, obsolete, and used steel pipe of all types and sizes. We stock and supply structural steel, steel plates, and other steel piping and hardware. Contact us at P.I.T. Pipe today for all your bollard pipe and metal pipe needs and to learn about our current in stock selection and inventory.