P.I.T. Pipe Can Supply All Sizes of ANSI Schedule 40 Pipe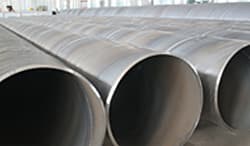 As a leading pipe supplier, P.I.T. Pipe can supply you with all types and sizes of schedule 40 pipe to meet your needs. A variety of applications can call for the use of schedule 40 pipe, such as moving steam and other applications which require transporting a pressurized liquid or gas. In these cases, the piping must meet strict integrity specifications and standards to resist pipe leaks or possible bursting under pressure. Because of the strict standards that must be met, used steel pipe is generally not recommended for these applications.
If you need schedule 40 pipe for any application, P.I.T. Pipe can help you. We stock and distribute all types of schedule 40 pipe, and if we do not stock it, we can work directly with our mills to fabricate what you need for you.
In addition to supplying steel pipe that meets up to schedule 40 pipe specifications in a variety of dimensions and lengths, we also sell many additional types of steel pipe and steel tubing. With our complete selection, we are your number one source when it comes to finding the steel pipe and tubing you need. Contact us at P.I.T. Pipe today for all your steel and metal pipe needs.
Schedule 40 Pipe Calculators
What is Schedule 40 Pipe?
Schedule 80 and schedule 40 pipe are among the most common types of steel pipe used today for pressurized applications. The schedule sets standards for the minimum inside wall thickness that is required for a certain diameter of steel pipe. The higher the schedule number is, the thicker the inside wall of the pipe must be for any given diameter of pipe. This means that the pipe is suited to handle higher pressure, measured in weight per foot.
In determining which pipe is capable of handling a certain pressure, it is recommended to use the Schedule Terminology from ANSI/ASME. The following are some additional schedules used for determining service pressures and stress a pipe can withstand:
Light Wall
Schedule 10
Schedule 20
Schedule 30
Schedule 40
Standard Weight
Schedule 60
Extra Strong
Schedule 80
Schedule 100
Schedule 120
Schedule 140
Schedule 160
Double Extra Strong
Contact P.I.T. Pipe for our Complete Selection of Schedule 40 Pipe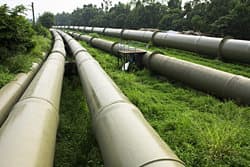 As a leading pipe supplier, P.I.T. Pipe can supply you with the pipe and tubing to meet all of your schedule 40 pipe needs. We carry a wide range of steel pipe with a variety of inside diameters and can custom fabricate lengths.
We also sell a huge variety of other types of new and used steel pipe, steel tubing, and other structural steel. We can apply custom coatings and paint to meet your specifications. No job is too big or too small. Whatever your needs, we can accommodate your next construction or piping project with any steel pipe, tubing, or structural steel you need. We will deliver pipe directly to your jobsite, taking the hassle of transportation out of your hands. We also buy used and surplus steel pipe, steel plates, and other structural steel components including obsolete steel pipe. For those in the Northeast region, we supply roll-off containers to collect your scrap metal and pay top dollar for all scrap metal collected. For all your metal pipe needs, contact us at P.I.T. Pipe today.