Our Selection of Piping Products
P.I.T. Pipe buys, stocks, and distributes the largest selection of new and used steel piping. We can supply your next construction project with any type, grade, length, and diameter of steel piping that you need. We also offer steel fabrication services and can fabricate steel piping for all types of projects to meet any custom requirements.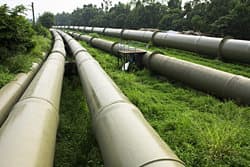 Whatever your piping needs are, we can accommodate you and supply everything you need for your next construction job. We service the USA, Canada, and Mexico and are a major distributor of new and used steel piping in these areas. We have a large selection of piping in stock at our locations across the county and if we do not have it, we can find it for you. Contact us today to learn more about the types of metal pipe we supply or to see our current inventory list.
Your Complete Source for all Types of Steel Piping
At P.I.T. Pipe, we carry a very large selection of new and used steel piping including but not limited to: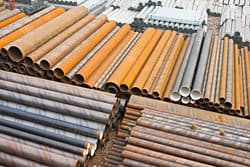 Prime - This is new piping that has original mill test reports with full traceability to the mill that manufactured the material. Specs we can supply to include API grades X42, X52, X60, X65, X70, X80, A500 Grades B, and C, ASTM A252 Grades 1,2,3, ASTM A139 Grades A, B, C, A36, ASTM A572 Grade 50, AWWA C200, A53, A106, API5L 2B.
Surplus - This is pipe that was purchased for a project that was cancelled or leftover, and thus remains unused. Often this piping comes without original mill test reports and is sold as surplus. The pipe can be tested to insure compliance with specifications of a particular job.
Mill Reject - This is pipe has been rejected from a mill because it did not meet the particular grade of piping they were intending to make. This could be due to the strength of the steel or because the pipe did not meet the intended tolerances. This piping is often downgraded and sold at a discount.
Used - This is pipe that was used for a temporary structural application or in the transmission of fluids or gas and that can be reclaimed and re-used again. This piping can be tested to ensure it meets requirements or reconditioned to be used for culvert, casing, piling, or for other structural applications.
Contact us for More Information on the Steel Piping We Offer
If you need steel piping no matter the diameter or length, P.I.T. Pipe can meet all of your needs. We carry a large selection of new and used steel piping stocked at various locations across the county. We also buy new, obsolete, surplus, and used steel piping. We can pick up or deliver pipe directly to your worksite, saving you the extra hassle. Contact us at P.I.T. Pipe today for all your metal pipe needs.