Culvert Pipe: New & Used Steel Pipe for Culverts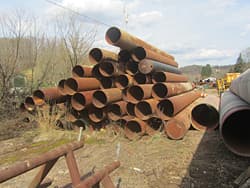 If you need culvert pipe for your next irrigation or construction job, we can supply you with what you need. At P.I.T. Pipe, we carry a large supply of all types of steel pipe for culverts and can even custom fabricate any length or diameter steel pipe, coated or non-coated. We stock new and used culvert pipe ranging in sizes from 10"-72" OD in light walls.
To find out more information about the different types of culvert pipe we can supply you for your next construction job, contact us today. You can also check out our culvert pipe prices online and see our current inventory of pipe in stock. To make a purchase or learn more, contact us for all of your culvert and metal pipe needs today.
What Is Culvert Pipe?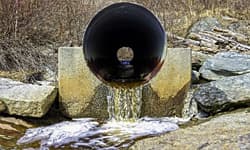 Culvert pipe can be used in any situation where you need to direct water runoff or overflow such as rainwater to another location. For example, culvert pipe is commonly used to move irrigation water or direct run-off water from one place to the other. Culvert pipe is commonly used in residential, farming, and other construction projects. This type of pipe is also known as sluice pipe or flume pipe when it is used in situations where water needs to be directed elsewhere to a designated location.
Culvert pipe is also commonly used to direct water from one side of a road, going directly underneath the road, to the other side of the road. In this case, the culvert pipe needs to be very strong, durable, and able to withstand heavy loads from road traffic.
The durability and thickness of steel pipe gives it greater strength over concrete or corrugated pipe. Therefore, steel pipe is commonly used in culvert applications. At P.I.T. Pipe, we supply a wide variety of types of pipe that can be used as culverts. Because the culvert pipe we carry is stronger and more durable, it can be used for more aggressive applications and will usually outlast many other types of pipe. Reconditioned or used pipe is a great and affordable option for these types of applications because culvert pipe does not need to meet exact or strict specifications.
Contact P.I.T. Pipe for More Information on Culvert Pipe
At P.I.T. Pipe, we carry a huge selection of steel culvert pipe and many other types and grades of steel piping. This includes surplus, reconditioned, and used pipe available at discount prices. We can also fabricate any type of steel pipe or structural steel you might need for your next construction project. We can cut pipe to meet any lengths and can deliver culvert pipe directly to your worksite anywhere in the United States, Canada, or Mexico. To learn more about the types of pipe we can supply or to see our current selection of culvert pipe, contact us today online or by phone at 800-310-6210.