We Buy and Sell a Huge Selection of Surplus & Used Steel Pipe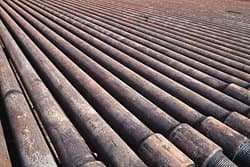 Used steel pipe is not always old, rusted, or corroded. While in sometimes this might be the case, it is not necessarily true for pipe that has been maintained properly or used short term in a particular use. In these cases, used steel pipe can be recovered and reconditioned for many uses in a variety of applications, especially for structural uses in construction. Common uses for used pipe include applications that do not require strict pressure specifications such as for piling, borings, road casings, pipe ramming, culverts, open cut casings, and more.
If you need used steel pipe for your next construction project, then P.I.T. Pipe can help you. We have a huge supply of quality reconditioned used steel pipe that can be used for any project. Our current selection is always changing, so contact us to inquire about our current inventory. We also buy new, surplus, and used steel pipe. If you are interested in buying or selling surplus or used steel pipe, contact us at P.I.T. Pipe today for your steel or metal pipe needs.
Used Steel Pipe Applications
Used steel pipe that has been recovered and reconditioned can be used for a wide variety of applications. These commonly include structural applications for building, road, dock, and bridge construction projects. For example, used pipe is a great alternative to new corrugated pipe for culverts. New culvert pipe can be very expensive, as it must often have a large diameter while being durable enough to support road traffic. Using high quality used steel pipe in these applications can save you a considerable amount of money.
If needed, surplus and used steel pipe can also be reconditioned and retested to ensure durability and strength before using it in a project. When tested, this surplus or used pipe will come with test reports ensuring that the pipe meets your specifications. When tested, our surplus and used steel pipe can even be used for low pressure gas, oil, or water applications.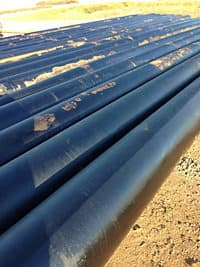 Contact Us to Buy Our Used Steel Pipe
If you are looking for used steel pipe for any application, then P.I.T. Pipe can help you. Our used steel pipe is available in a wide range of sizes and lengths, and we can fabricate any custom steel pipe to meet your exact needs. We clean and recondition all pipe before sale and can apply special coatings as needed. Our used steel pipe is divided into number 1 and 2 classifications, based on the amount of rust, pitting, and wear a pipe shows. We can also test used pipe as needed to ensure it meets your specifications. With stocking locating across the country, we will deliver pipe directly to your job site in an efficient and timely manner. Contact us today to find out our current inventory and to learn more about the surplus and used steel pipe we sell.
Contact Us to Sell Surplus or Used Steel Pipe
If you are interested in selling used, surplus, or obsolete pipe from your inventory, we can help. P.I.T. Pipe pays top dollar for used, new, obsolete, or overstock steel pipe. We can pick up pipe directly from your mill or jobsite, taking all of the hassle out of selling your used steel pipe. Contact us at P.I.T. Pipe today for all your steel and metal pipe needs.