P.I.T. Pipe Stocks and Supplies Penstock Pipe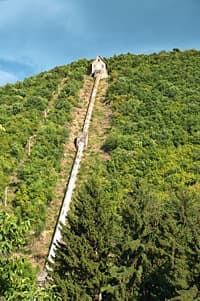 At P.I.T. Pipe, we can supply penstock pipe for hydroelectric installations or other applications where a very large diameter pipe is needed to move water. Our penstock pipe can also be used in water management systems for surface water drainage and wastewater or sewers. Penstock pipe can be used to isolate water flowing from one source to another using a gate to close the pipe. Additionally, penstock pipe has many other uses and possible applications.
If you need penstock pipe for any application or construction project, P.I.T. Pipe can supply you with what you need. As a leading pipe distributor, we carry all sizes and types of penstock pipe and can cut and fabricate pipe to meet any special or custom requirements. We will deliver your pipe directly to your jobsite by truck, train, or barge. We have supplied penstock pipe to clients everywhere from throughout the US to deep in the jungles of Honduras – so no job is too big or too small.
To learn more about our products available, contact us at P.I.T. Pipe for all your steel and metal pipe needs.
More About Penstock Pipe Uses and Applications
Penstock pipe is typically used to carry water from one source to another. This is most often used in hydropower and micro-hydropower applications. The pipe length can range from a few feet to several hundred feet depending on the application. The most common materials used for penstock pipe include:
PVC
Polyethylene
Steel
Fiber Reinforced Epoxy
Transite or Asbestos Cement
When comparing each of these materials you should factor in things like cost, availability, physical friction, strength, durability, and chemistry properties of the pipe as well as the joining methods that can be used.
Selecting the Best Penstock Pipe for Your Application
When selecting the right pipe for any penstock application, it is important to consider several factors. For example, the ideal penstock diameter depends on several factors such as energy losses due to friction between water flowing inside the pipe and the pipe wall. For a given flow rate, as the pipe diameter decreases, the velocity of the water must increase since the corresponding energy loss increases. This occurs because friction is a function of velocity. As velocity increases, friction increases. This also means that a larger diameter pipe has decreased friction. However, larger diameter penstock pipe costs more money.
Additionally, pressure limitations should be taken into consideration and the deciding factor is the thickness of the wall pipe. When selecting penstock pipe, the wall thickness determines the pipes static pressure. The thicker the wall, the more static pressure the pipe can withstand. Therefore, the expected pressure of the water passing through the pipe should be factored in.
Contact Us for the Best Selection of Penstock Pipe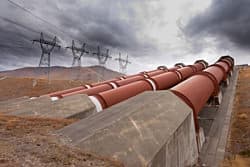 As a leading pipe supplier and distributor, we at P.I.T. Pipe can accommodate all your steel pipe needs. We can cut and fabricate pipe for any application including custom coatings and fittings. We carry a large selection of new, used, and surplus steel pipe and steel tubing to satisfy any need. We also buy new, overstock, obsolete, and used steel pipe and structural steel items such as I-beams, steel plates, and other structural steel items. Contact us today for all your steel and metal pipe needs.