P.I.T. Pipe Stocks and Supplies Steel I-Beams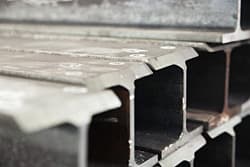 At P.I.T. Pipe, we carry a wide selection of steel I-beams and H piles in a variety of sizes and lengths. With our complete selection, we can supply you with the steel I-beams you need for your next construction or building project.
If you need structural steel I-beams, H beams, or any other type of structural steel, P.I.T. Pipe can accommodate you. We can fabricate any type of steel I-beam or other structural steel element that you might need for your next project. We also carry many different types of steel piping and steel tubing, and we can fill almost any custom order by working directly with our partnered steel mills. We also stock a selection of surplus and used pipe and beams at our locations across the country. We can deliver your steel I-beam purchase directly to your jobsite.
Contact us at P.I.T. Pipe today for all your steel tubing, steel pipe, structural steel, or any other metal pipe needs.
Our Complete Selection of Steel I-Beam Sizes
Steel I-beams are a type of joist or girder that is made from heavy structural steel. They are generally used as major supports in buildings that give the overall structure its strength. Steel is the most common material used to make I beams because of the heavy loads that a steel I-beam can support. I-beams are also used for piling applications for deep foundation.
At P.I.T. Pipe, we can supply you with almost any size and length when it comes to steel I-beams. We carry the structural steel I-beam types listed below, and we can also custom fabricate beams to meet your needs.
We can supply steel I-beam and H-piling sizes that include:
HP18 x 135, 157, 181, 204
HP16 x 88, 101, 121, 141, 162, 183
HP14 x 73, 89, 102, 117
HP12 x 53, 63, 74, 84, 89
HP10 x 42, 57
HP 8 x 36
Contact Us to Learn More About Our Selection of Steel I-Beams Available
If you are looking for steel I-beams or any other type of beams, P.I.T. Pipe is your one stop source. We can supply a wide variety of steel I-beam types for your next construction project and can custom fabricate any special order that you might need. We can ship your steel I-beams right to your construction site by rail, truck, or barge. To learn about our current selection of steel I-beams available or for custom orders, contact us today.
We also buy all types of structural steel, steel pipe, steel tubing, and any other kind of steel items. We have roll off containers that we can deliver to you to help you with all your scrap metal removal needs, and we pay top dollar for all scrap metal that we collect. Contact us at P.I.T. Pipe today for all your steel and metal pipe needs.