Roll-Off Dumpster Rental in the Northeast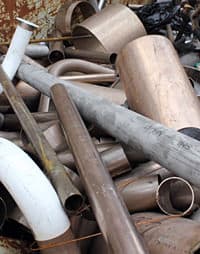 At P.I.T. Pipe, we can supply your construction or jobsite with a roll-off dumpster to collect your scrap metal or construction waste for a clean and safe jobsite. We can deliver the dumpsters directly to your jobsite and pick up your dumpster when full for areas throughout the Northeast, including Maine, New York, Pennsylvania, West Virginia, and Ohio. Our roll-off dumpsters are available for a low monthly rental cost of $125 per month plus trucking fees to deliver and collect. Our roll-off dumpsters are available for debris and construction trash removal as well as scrap metal collection. We pay top dollar for all scrap metal we collect.
If you need a roll-off dumpster delivered to your construction site or jobsite for scrap metal or construction trash collection, then P.I.T. Pipe can help you. Offering sizes ranging from 10 through 60 yards, we can haul a variety of types of construction materials. Our roll-off dumpsters can handle between 30-50 thousand pounds standard with an 80 thousand pound maximum per truck.
We also buy and sell new and used metal pipe and structural steel items. For all of your construction needs or to learn more about roll-off dumpster service, contact us today!
More About Our Roll-Off Dumpster Service
During any construction project, whether at home or on a professional jobsite, you are likely to have a great deal of debris and trash that needs to be removed. Cleaning up construction trash and scrap metal can take a significant amount of time, cutting into the time of your actual construction project.
At P.I.T. Pipe, we understand this. Therefore, we aim to make it as easy for you as possible with our roll-off dumpster service. We can deliver and pick up roll-off dumpsters directly at your site. We can also supply you with the equipment needed to load the roll-off dumpster. Some of our equipment we can provide includes: grapples, magnets, backhoes, and front end loaders. We offer roll-off dumpsters in a variety of sizes. We also offer dump trailers for larger jobs. If preferred, we can even load your roll-off dumpster for you and haul it away all in the same day.
Contact P.I.T. Pipe Today for Your Roll-Off Dumpster Needs and More!
At P.I.T. Pipe, we can accommodate you with all your roll-off dumpster needs for your next construction project. With over 100 roll-off dumpsters available in a wide range of sizes, we can collect everything from concrete and lumber to scrap metal and general trash. Throughout the Northeast region and across the U.S., make us at P.I.T. Pipe your first choice for scrap metal collection and construction trash pickup.
Not only does P.I.T. Pipe buy scrap metal, but we also buy all overstocked or obsolete steel pipe, steel tubing, and used pipe. We also purchase structural steel such as steel I-beams and steel plates. Contact us at P.I.T. Pipe today for all your steel pipe, structural steel fabrication, and metal pipe needs.