Scrap Metal Collection: We Pay Top Dollar for Your Scrap Metal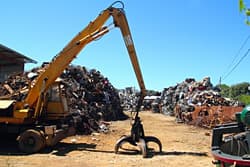 At P.I.T. Pipe, make us your first call for your scrap metal collection needs. We offer roll off containers that can be delivered directly to your construction site to collect scrap metal, and we pay top dollar for any scrap metal collected. With over 100 roll off containers available throughout the Northeastern United States, we can help you keep a clean and safe jobsite for your construction projects while saving you time. Contact us at P.I.T. Pipe today for all your scrap metal collection, steel, and metal pipe needs, and to see how we can help you on your next construction project.
Important Information About Our Scrap Metal Collection Service
Everyone knows that a clean jobsite is a safe jobsite. Not only that, but scrap metal can be very dangerous if not properly collected and stored in a safe container. That is why P.I.T. Pipe offers roll-off dumpsters to collect and remove scrap metal and other debris from job and construction sites. Our containers and dumpsters are available in different sizes ranging from 10 to 60 yards. We can safely haul 30-50 thousand pounds with an 80,000 pound gross vehicle weight. Our monthly rental cost is just $125 a month plus the trucking costs. We offer month to month rental periods.
Our scrap metal containers can be delivered directly to your jobsite and are available in 48 states, specializing in the MA, NY, PA, WV, VA, and OH regions. We can drop off and pick up at your jobsite or if needed, dumpsters can be loaded for the customer. We can also provide equipment to load the scrap metal into the containers for you. Equipment includes:
Grapples
Magnets
Backhoes
Front End Loaders
We Buy More than Just Scrap Metal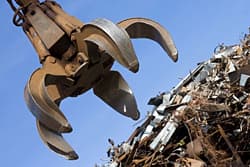 At P.I.T Pipe, we not only collect scrap metal from your construction site, but we also buy all types of structural steel, steel pipe, and steel tubing regardless if it is new, used, or obsolete. From steel pipe and tubing to structural steel I-beams and steel plates, we buy it all. We can recondition used pipe and sell pipe for all applications. Therefore, regardless of the condition, we can buy your used steel and pipe. If you have any used, surplus, or unneeded steel structural or steel pipe items, contact P.I.T. Pipe to see if we may be interested in purchasing it from you.
Contact P.I.T. Pipe for Your Scrap Metal Collection Needs
At P.I.T. Pipe, we buy your scrap metal and pay top dollar for all scrap metal we collect. We also buy all types of structural steel and new and used steel pipe. To learn more about our services or to schedule delivery for a roll off container for your scrap metal collection needs, contact us today. As a leading steel and pipe distributor, contact P.I.T. Pipe for all of your steel and metal pipe needs.