Dock Pilings: Mooring & Pipe Piles
As a leading pipe distributor, we at P.I.T. Pipe sell a wide selection of dock pilings and can custom fabricate whatever you need. We work directly with mills and can produce any type of dock pilings that you need for your next construction project and deliver them right to your jobsite. We can supply new or used dock pilings and can apply custom coatings to meet your needs. If you need pipe piles or mooring piles, we can supply any type of piling in any size to accommodate you.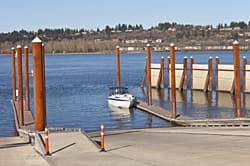 In addition to supplying a complete selection of dock piling and piles, we also carry a wide selection of new and used steel pipe and steel tubing to meet all of your needs. We at P.I.T. Pipe also buy new, used, and obsolete steel pipe, I-beams, steel plates, and any other structural steel items, making us your one source for all of your steel piping needs. Contact us today for all your steel and metal pipe needs, to learn about the types of dock pilings and mooring piles we supply, or to learn about our current selection of in stock pipe.

Dock Pilings and Their Applications
Installing dock pilings is the first step in building a dock or a pier. These piles can be made from steel or timber and are either drilled and placed or 'pile driven' into the hard sediment layer that exists under the water. At P.I.T. Pipe, we stock a wide range of dock pilings in many sizes offering a range strength and load capacities. The corrosion properties of these specialty pilings depend on the thickness of the steel and the type of coatings that are applied. We offer a variety of marine specialty coatings to help protect against corrosion and ensure greater longevity and durability. Using steel dock pilings with a thicker outside diameter and special coatings will ensure long lasting anti-corrosion and durability.
In addition to supplying a wide range of dock pilings for constructing docks and piers, we also offer pipe piles designed for use as mooring piles, which can be used to tie off boats and barges.
Contact P.I.T. Pipe to Learn More About Our Selection of Dock Pilings
At P.I.T. Pipe, we offer a huge selection of high quality dock pilings as well as many other types of steel pipe and steel tubing. We carry many products in stock in new and used pipe, and we can also work with mills to custom fabricate pilings and other steel pipe. We also carry steel structural items such as steel I-beams, steel plates, and other structural materials. We can custom cut and coat pipe and dock pilings to suit your needs, and we can deliver your purchase directly to your jobsite by barge, truck, or rail. Contact us at P.I.T. Pipe today for all your steel and metal pipe needs and to learn more about our current pipe inventory.